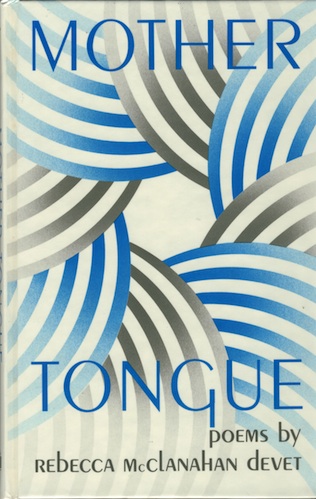 "Her poetry seems crafted from butterfly wings and bits of old nighties, but beneath the shimmering vulnerability there is sterner stuff: the accidental murder of children, loneliness and longing for children never borne, nightmares, desire."
- Charleen Swansea, Red Clay Books
Rebecca's first book of poems ranges far and wide: fairy tales and nightmare images, Marvin Gaye, Marine Corps brats and blind students and "full service" gas station attendants.
Published by University Presses of Florida 0-8130-08581-1 (hardback)
available on amazon
selection from mother tongue
Marine Base
Balancing barefoot
on unpacked crates,
she remembers his promise:
the best thing about a Quonset hut
is the artillery rain on
metal roof. But here the sky
coughs its brown throat. Dust.
Dry heaves. And Mother hangs
a picture of waves
on curved tin walls. She tacks
each corner to keep the waves
from spilling off the canvas,
drowning her youngest
sleeping on the foldout couch.
Outside on the jungle gym,
we play kamikaze
games of dead man's drop,
balance on iron bars, throw
back our bodies till they
snap. Now hinged by skinny knees,
we hang upside down,
our eyes swimming the green
of the general's house on the hill.
We dangle, a row
of question marks. Our hair
brushes the khaki dirt.